I have started listening to my inner voice twelve years ago…. like a little chatter to myself. It all started like :
Hum, what should I do with my life
Then out of nowhere, I heard
Paint !
Paint ? but I know nothing about painting.  I tried to paint years ago and I did not feel the connection.
Paint and you will see.
So the next day I bought a canvas and started to paint a picture of myself sleeping. I am not good at drawing, but managed somehow to do a shape of myself, put some contrasts. Suddenly, out of nowhere, my eyes stopped focussing on my brushes and canvas but moved beyond, in the space…. and I could see my painting taking some 3D shape. I knew instantively what to do to make my painting alive, how to correct the shades and colors and make it real in another dimension. When it was finished, I thought to myself. "What did it just happen?" . I was really happy with the result. I did not really know where all this came from, but the result was there.
Then my rational mind said : "no… You like your painting because you did it. There is nothing special about it. You should try to paint something else and you will see that I am right".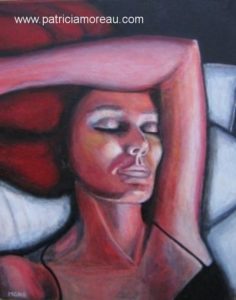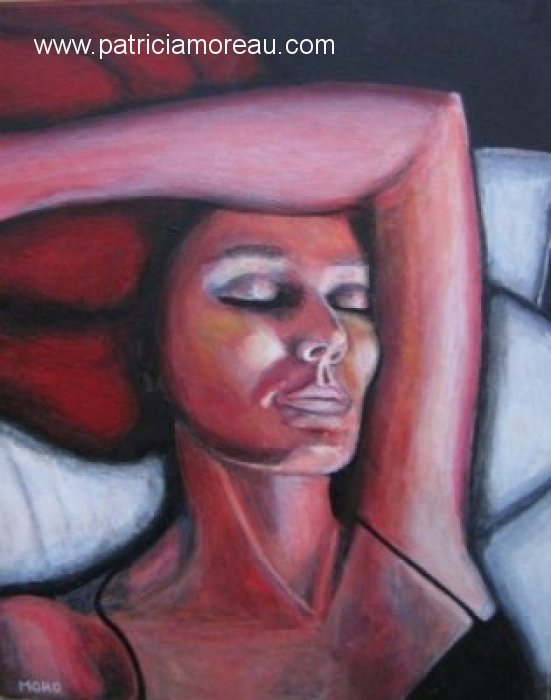 So I went in a nearby café and told a friend about my story. He said to me : "My mother loves Beethoven. You should do a painting of Beethoven and maybe she will buy it". "Beethoven, are you kidding ? it's hard. " But I took the challenge and started copying a painting of a portrait of Beethoven." Soon I could see the shape of Beethoven become real on the other side of the canvas. I was happy… the magic still was operating.  I did not need the original painting anymore, I was creating my own version of Beethoven… molding him like a scupture in space.
Then something magical happened.  I was working on the eyes then suddenly I felt watched.  My painting was becoming alive and was watching me deep into my eyes. me. My younger version of Ludvig van Beethoven was alive on my other side of the canvas and was looking deep into my eyes.
The image on the other side was not stable.  I could see different facial expressions I wanted to explore.  It was difficult to stay focus in one expression. I tried to fix an image in my mind but find it extremely difficult. In this painting, I probably have 20 different expressions of Beethoven layered underneath. It took me months to make it. I wanted to make it better and better each time and only managed to paraphrase a different version of Beethoven. So that is it. I can't do more. This is my "palier", a level I can not break through.
I remember at one stage of the process, I did not make the right eye right. It did not follow the expression of the left eyes. I  tried and tried and tried… Impossible.  There was definitely something wrong with my eyes. Then I asked myself : "What should I do to make it right ?" Then the thought came : "You focus on the wrong. Stop focussing on the wrong and the good will appear. "
So I decided to look at the rest of the canvas ignoring completely the right eyes  ! It worked ! By not looking at the defect eyes anymore, it appeared perfectly clear and I knew instinctively what to do.

My Beethoven painting was a kind of study painting. I have spent so much time in it, at least 6 months and countless hours, trying to test, see, explore, do different expressions, that there was no way I could sell it anymore. I was too deeply attached to it, an invisible connection that make it part of myself. 
I was somehow pleased with the result, so I took it to the Café in order to show it to my friend. When I arrived I put the painting on the floor standing against a wall. A dog passed by and started barking like crazy at my painting. This actually filled my heart with joy as I thought to myself. "Hum, I am not the only one seeing he's alive behind the canvas"….
From this time, I have not stopped painting…. Small paintings, big paintings without trying to sell it….  Actually, I do not paint as much as I did.  Only for one reason.  I do not know what to do with them.  If I manage to sell them, I will create much more. I like the ideas that part of me will be hanging in the walls around the world, and yes, my painting are little part of me, my essence and being at the moment of the creation are in in. 
My painting has changed overtime, although getting more simplified in details, it still brings me the same other dimension connection feeling and an immense joy while doing it.
I decided to do it much smaller and much quicker.  Maybe this will help me not getting too attached to it.  
My inner feelings kept pushing me to paint and show my painting to the world but fears  stopped me from doing it.  Now, here I am, making a blog and showing my work to the world and putting little by little in a shop. If I don't try, I will never know where it will lead me. I do not want to live a life with regrets.
Time is running fast.  Please, follow your intuition before it is too late.
Don't live your life with regrets. 
More stories to comes